Network SSL Certificate Scanner (NetCertScanner)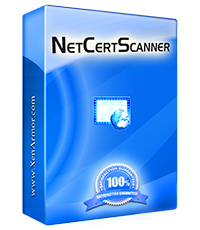 NetCertScanner is the enterprise software to scan & manage expired SSL Certificates on your local network or internet. It's swift SSL Certifcate scan powered by 'Host-Port Multiplexed Multithreading' technique helps you to scan the entire network in just few minutes.
Along with this, it also boasts of other special features like Smarter SSL Cert Analysis, Hidden SSL Port Scan, Color based Display, Database Integration, Console Version, HTML/CSV Scan Report etc making it a unique product in the universe.
Served independently since 2007, now for the first time it is being released under the company 'XenArmor' offering enterprise support and service to all our customers.
NetCertScanner 2015 presents the fully renovated edition from inside out to perform SSL certificate scan smarter than ever. Here are the highlights of new features,
Scan 256*256 Hosts

Now you can scan entire local network (*.*.0.0/16 or 256*256 hosts) in one go

Smarter SSL Cert Analysis

Improved Post Scan Analysis to expose Expired/Self-signed SSL Certificates

2x Speed Scan

Enhanced speed and performance improvements for quicker SSL scan of local network or internet

HTML/CSV Scan Report

Support for generating SSL Cert scan report in both HTML and CSV file format

Colored Console Output

New console version displays results in various colors based on Cert Analysis

First from Company

First ever release under the XenArmor Co. assuring of secure, trusted & quality service

Here are the main features and benefits of NetCertScanner
Swift SSL Scanning Operation using 'Host-Port Multiplexed Multithreading' Technique
'Universal SSL Scanner' based unique method of retrieving SSL Certificate from Remote Host
Supports both HTTP-SSL (443) and LDAP-SSL (636) Services on Local Network or Internet
Scan entire Local Network (*.*.0.0/16) or 256x256 Hosts in one go
Hidden SSL Port Scanning feature using Brute-force method
Smart SSL Certificate Analysis (Expired/Self-signed Certs)
Special 'Warning Note' for the SSL Certificates that are about to Expire in a month
Color based Display of SSL Certificate Results (warning/expired/self-signed etc)
Console/Command-Line version for Automation of SSL Scanning operation
File based IP List Scanning [Console Version]
Generate SSL Certificate Scan Report in both HTML/CSV format
Database integration with Microsoft SQL Server to Auto-store Certificate Scan results
View complete SSL Certificate [requires Database integration]
Fully Portable, does not require Java, .NET or any other Components
Operating System: Windows XP, 2003, Vista, Windows 7, Windows 2008, Windows 8
Physical Memory: 1 GB
HARD Disk Capacity: 100 MB
Database: Microsoft SQL Server (optional)
We strongly recommend using Windows Server Editions or Windows 7/8 for faster scanning performance.
NetCertScanner is available in Standard, Professional and Enterprise Editions. For medium and large scale organizations we recommend Enterprise Edition.
Select NetCertScanner Edition
Standard
Professional
Enterprise
Swift SSL Scan powered by "Host-Port Multiplexed Multithreading" technique
SSL Scan of both Web & Directory Servers (HTTPS/LDAPS)
Generate SSL Certificate Scan Report in both HTML/CSV format
Database Integration with Microsoft SQL Server
Brute-Force based Hidden SSL Port Scan
Smart SSL Certificate Analysis (detect Expired/Self-signed Certificates)
Show Warning for about to Expire SSL Certificates
Colored Representation of SSL Certificate Results
Scan Entire Subnet (*.*.0.0/16) or 256x256 Systems in one go
Console/Command-line Version for Automation
File based IP List Scanning [Console Version]
Free Support Plan Included
3 Months
6 Months
1 Year
Buy/Try NetCertScanner
Download Demo Version
Releasing Soon
Purchase
Releasing Soon